Capital City
Honolulu
Climate
Hawaiʻi is known for its 'endless summer' with warm temperatures year-round, making it the ideal tropical getaway no matter what the season. Oahu's daytime temperatures average between 73-84° F (23-29°C). The temperature drops 54°F (12°C) lower in the evenings and the ocean is a consistent 77°F (25°C), while any rain is usually brief.
Currency & Money
United States Dollar ($). ATMs are all over the island and credit cards are accepted just about everywhere. It is handy to have cash on hand for Taxis (some of them don't accept credit card), food trucks and for tipping.
Driving
The island of Oʻahu is 44mi (71km) long and 30mi (48km) wide, it's an easy island to navigate with three major highways (H1, H2, H3) and well-maintained roads. Heavy traffic is to be expected between the hours of 5:30-8:30am and 3:30-6:30pm.
Driving in Hawaiʻi is on the right-side of the road. For a detailed look at the State of Hawaii driving rules and regulations read the Hawaii Drivers Manual.
Foreign visitors to Hawaii can drive a car with an International Driver's License (without an additional International Driver's Permit) as long as it is valid in the home country and is written in English. Learner or provisional permits are not accepted.
If the International Driver's License is in a language other than English, and the letters are English (i.e. German, Spanish, etc.), an additional International Driver's Permit is highly recommended. Please confirm with your car hire company ahead of time.
If the International Driver's License is in a language other than English, and the letters are not English (i.e. Japanese, Arabic, etc.), an additional International Driver's Permit is required.
An International Driver's Permit is a translation of an individual's foreign license and is normally easy and inexpensive to obtain in the driver's home country, usually issued by an automobile association.
Economy
While tourism and the military are the main drivers of Hawaiʻi's economy in the era post-plantation, there are new opportunities emerging for innovative technology, agriculture, and clean energy, especially as the islands deal with increasing impacts of climate change and sea level rise and a need to be able to provide accessible and affordable food to all residents.
Electrical Outlets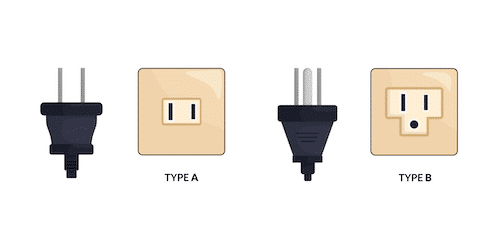 In the United States, the power plugs and sockets are of type A and B. The standard voltage is 120v and the standard frequency is 60hz. International visitors will need a Travel Adapter, we keep spares in the Emergency Box.
Hawaiʻi State Taxes & Fees
Hawaiʻi does not have a sales tax, instead, a General Excise Tax (GET) applies. On Oahu, GET is approximately 4.712% of the price. The tax is not included in the advertised price, it is added at the time of purchase.
All visitors are required to pay a Transient Accommodation Tax (TAT) of 10.25% and Island Transient Accommodation Tax (OTAT/MCTAT/KTAT/HCTAT) of 3% for accommodation. This means accommodation attracts a tax of almost 18% (GET + TAT combined).
Health
According to the Centers for Disease Control and Prevention (CDC), there are no vaccination requirements for visitors to the United States.
Language
Hawaii has two official languages, English and Hawaiian. There's also an unofficial vernacular called Pidgin.
Location
Hawaiʻi is a volcanic island chain in the central Pacific Ocean. The islands lie 2,397mi (3,857km) from San Francisco (California) to the East and 5,293mi (8,516km) from Manila (Philippines) to the West.
Population
The Hawaiian Islands have an estimated total population of 1.4 million, with at least 1.1 million people residing on the island of Oahu.
Religion
Though Christian missionaries made a tremendous impact on Hawaii in the nineteenth century, the islands are now known to be very tolerant of religious differences. Most people are Christian today, but it is common to encounter practicing Buddhists. There are temples and shrines all over the islands, including in rural areas where Japanese worshipers worked in agriculture in the past. There is a large Mormon presence—Brigham Young University has a Hawaii campus in Laie and operates the Polynesian Cultural Center there. Other visible religious groups are Muslims, Bahai, Hindus, and Jewish people who all have houses of worship and community spaces throughout the islands, especially in the capital Honolulu.
The Hawaiian Renaissance also brought traditional spiritual practices to the fore and there are numerous sacred places, and volcanic stones, called pohaku in Hawaiian, that have ancient stories all around the islands. Practitioners observe different kapu, or regulations, about how to conduct oneself in those spaces and a good guiding principle is to be respectful and open if given feedback on the appropriateness of accessing certain hikes, geological features, or other off limits locales.
Time Zone
Hawaiʻi follows Hawaii-Aleutian Standard Time (HAST), which is 10 hours behind the Coordinated Universal Time (UCT-10). It is five hours behind Eastern Standard Time and two hours behind Pacific Standard Time. Hawaii does not observe Daylight Saving Time, so add one extra hour to the time difference during this period (March-November). For the current time in Hawaii, click here.
Telephone
The area code for the entire state of Hawaiʻi is (808).
All calls within the Hawaiian Islands are local, to call another island from within Hawaiʻi dial 1 (808), and then the number.
To call a Hawaiʻi number on a phone with international service, dial 1 (808), and then the number. Sometimes you may need to add a + in front of the entire number.
To dial from Hawaiʻi to the U.S. Mainland, dial 1, U.S. area code, and then the number.
To dial from Hawaiʻi to another country, dial 011 (U.S. exit code), country code, and then the number.
To call Australia from Hawaiʻi, dial 011 (US exit code), 61 (Australia country code), and then 9 digits including area code (for cell phones it's 9 digits dropping the 0 and using 4 as the first digit nationwide).
Tipping in Hawaiʻi
America has a customary practice of tipping, that is, giving a gratuity (gift of money) in exchange for good service. Here's our cheat sheet for tipping in Hawaiʻi.
PORTERS/CONCIERGE (AIRPORT/HOTEL)
$1-2 per bag and $1-2 per Taxi call
TAXI DRIVERS
10-15% of total fare plus $1-2 bags if handled
VALET PARKING ATTENDANTS
$2-5 on top of the parking fee
HOUSEKEEPERS
$1-2 per hotel room $5 per apartment per day
BARTENDERS/WAIT STAFF
$1-2 per drink ordered
15-20% of the meal cost
GUIDES/DRIVERS
$5 for half-day tours and $10 for full-day tours
HAIRDRESSERS/NAIL SALONS/MASSAGE PARLORS
$10-20 depends on the type of service
20% for massage therapy
ENTERTAINERS
$1-20 depends on your generosity!
U.S. Measurements
Hawaiʻi uses U.S. Customary units for measurement, see conversions to Metric units below.
LENGTH
1 inch = 2.54 centimetres
1 foot = 0.305 metres
1 yard = 0.914 metres
1 mile = 1.61 kilometers
WEIGHT/MASS
1 ounce = 28.3 grams
1 pound = 0.454 kilograms
CAPACITY
1 fluid ounce = 29.6 millilitres
1 quart = 0.946 litres
1 gallon = 3.79 litres
Visas
There is an Electronic System for Travel Authorization (ESTA) Visa Waiver Program that allows citizens or nationals of 39 countries to enter the United States (Hawaii is America's 50th state) for the purposes of tourism, for a period of up to 90 days, without requiring a visa if they apply and are approved for ESTA. Think of it as a compulsory security check.
As of January 2020, the official ESTA website states you are eligible to apply for admission under the Visa Waiver Program if you are a citizen or national of one of the countries listed:
Andorra, Australia, Austria, Belgium, Brunei, Chile, Czech Republic, Denmark, Estonia, Finland, France, Germany, Greece, Hungary, Iceland, Ireland, Italy, Japan, Latvia, Liechtenstein, Lithuania, Luxembourg, Republic of Malta, Monaco, Netherlands, New Zealand, Norway, Poland, Portugal, San Marino, Singapore, Slovakia, Slovenia, South Korea, Spain, Sweden, Switzerland, Taiwan, United Kingdom.
Beware of fake websites, if you are asked to pay more than $21 you are in the wrong place! This is the official ESTA website address: esta.cbp.dhs.gov/esta
Apply for ESTA no later than 72 hours before departing for America. Real-time approvals are no longer available and arriving at the airport without a previously approved ESTA could result in being denied boarding.
Have your travel information handy for the online application including passport details, contact information, and address while in the U.S. (your accommodation). Take note of your ESTA reference number and travel with a copy of your approved ESTA.
If you are denied ESTA, or are not from one of the 39 countries above, please seek advice from your nearest United States Embassy or Consulate to confirm the process for entering America.