*This is a copy of the Waikīkī Beach Stays monthly mailer (sent out 27 Sep 2021). Click here to subscribe for future editions.
Welcome to Waikīkī Beach Stays monthly mailer, the best place to keep up to date with everything happening on the island of Oʻahu, Hawaiʻi.
What goes up must come down!
Oʻahu went from record-high hotel occupancy in June and July, to significantly lower levels in August and September. This was, in part, due to a spike in Hawaiʻi's COVID-19 cases which prompted our Governor to ask tourists not to visit the islands.
Many travelers postponed their plans.
In the meantime…
The City & County of Honolulu re-evaluated it's Tier System and changed it over to the Safe Oʻahu Response Plan. This initiative is designed to keep residents and visitors safe while allowing businesses to stay open.
The goal here is to avoid another lockdown.
Central to the plan are these new rules:
Employees/contractors/volunteers of businesses, such as restaurants, bars, gyms, movie theaters, museums, and other similiar establishments, must show proof of full vaccination against COVID-19 or a negative COVID-19 test result each week in order to operate.
Customers must show proof of full vaccination against COVID-19 or a negative COVID-19 test result taken within 48-hours in order to enter businesses. Children <12 are exempt.
IMPORTANT: Please ensure you have your ID, along with your proof of vaccination (or valid negative COVID-19 test) in hard copy or digital format (a photo) to show upon entry at Oʻahu establishments.
Oʻahu has also extended the suspension of large gatherings until 19 Oct 2021. Social gatherings remain limited to 10 people indoors and 25 people outdoors. Restaurants and bars can operate at 50% capacity.
With these restrictions in place, we highly recommend making dining reservations in advance. OpenTable app is great for booking, changing and cancelling reservations.
And if you're not sure about where to eat, pick-up a copy of our Oʻahu Eats Guide! It's a great tool for planning where to eat during your trip.
Like other destinations, Hawaiʻi travel has changed.
But we can assure you the sun is still shining, the beaches are still beautiful, and the Mai Tai's are still flowing 🙂
We have the Safe Travels Hawaiʻi program in place for a reason.
And we continue to welcome visitors to Waikīkī every week. This weekend we're even playing tourist in our own backyard, staycationing at the Waikīkī Beach Marriott Resort & Spa.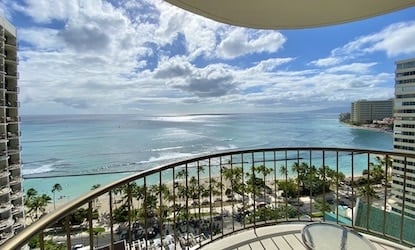 If you have any questions or concerns about your future Hawaiʻi vacation, please don't hesitate to reach out. We're always happy to help our guests and readers.
Warmest Aloha,
Ash & Keli'i
[email protected]
COVID-19 Hawaiʻi Travel Updates
As of 27 Sep 2021: There have been 78,404 cases of COVID-19 in Hawaiʻi to date, resulting in 757 deaths. Average daily new cases 339 island-wide (230 Oʻahu, 30 Maui County, 26 Kauaʻi and 53 Hawaiʻi Island). The vast majority of cases and hospitalizations are among those unvaccinated.
Travelers entering Hawaiʻi from the US and its Territories who have been fully vaccinated in the United States (or its Territories) may bypass quarantine without a pre-travel test (starting on the 15th day after their second dose). The vaccination record must be uploaded to Safe Travels or printed out prior to departure and hard copy in hand when arriving. This program does not cover international travelers.
Other travelers must continue to take a pre-travel COVID-19 test from a trusted testing and travel partner (available on the US mainland, Canada, Japan, Taiwan, French Polynesia, South Korea and Philippines) 72-hours prior to the final leg of their trip, and get a negative result returned prior to boarding their flight in order to bypass Hawaiʻi's 10-day mandatory self-quarantine.
If you need a COVID-19 test during your vacation, there's a new mass COVID-19 testing site at the Waikīkī Shell. This walk-up clinic by Nomi Health is open Mon-Fri 9am-5pm. Pre-registration is required. Book online or call +1 (808) 207-5459. 
Destination
There continues to be a rental car shortage on Oʻahu. To avoid disappointment we recommend booking early with Discount Hawaii Car Rental. They have no booking fees or cancellation penalties, no prepayment and reservations are guaranteed.
Hawaiian Airlines has launched a great video focused on responsible travel in Hawaiʻi. We encourage everyone to watch the 5-minute Travel Pono clip. To travel pono is to explore with care, offering your kōkua (help) to preserve Hawaiʻi's natural resources, cultures and communities.
Airlines
Hawaiian Airlines are delighted to bring American Samoa back into their network. They resumed non-stop service between Honolulu and American Samoa in Sep 2021, offering two monthly flights connecting the destinations.
After an 18-month absence, the Hawaiian Airlines website shows a restart of direct flights from Honolulu to Sydney and Brisbane from mid-Dec 2021. These flights are dependent on whether the Australian borders reopen and the removal of certain travel restrictions in Australia and Hawaiʻi. We have our fingers (and toes) crossed!
Transportation
There's a parking ban in Lanikai through Dec 2021. The public is restricted from parking along any street in Lanikai on weekdays (Mon-Fri) from 8:30am-4pm. Try walking, biking, or using TheBus Route 671 from Kailua Town to access Lanikai. Click here to view a map of the restricted parking area.
The Biki bikeshare program has 100+ Biki stops conveniently located throughout urban Honolulu. They have just installed two new stations, one in Chinatown (cross of Pauahi St and Nuʻuanu Ave) and one in front of Azure at Ala Moana Center.
Accommodations
Waikīkī Beach Marriott Resort & Spa has completed a multi-million dollar transformation. The beachfront resort upgrades include 1,310 refreshed rooms and suites, a modernized open-air lobby, Royal Kaila Spa and a 1-acre Queensbreak pool and amenity deck playground including two pools and a restaurant and bar.
Restaurants & Bars
The Oʻahu Eats Guide is 50% off. Don't leave the most delicious part of your Hawaii holiday up to chance! After six years eating my way around the island, I've downloaded my insider foodie advice into this guide.
There are two new eateries on the Grand Lanai at the International Market Place. Moani Waikiki is a family-run restaurant with open-air seating featuring live music and local comfort food. Skybox Taphouse is a sports bar and restaurant with over 40 state-of-the-art TV's overlooking Kalākaua Ave offering great pizza and beer.
Following a stylish renovation, PF Chang's Hawaiʻi has reopened for lunch and dinner at the Royal Hawaiian Center in Waikīkī.
Aloha Melt Waikīkī at 355 Royal Hawaiian Ave specializes in made-to-order grilled cheese sandwiches (that can be paired with tomato basil soup). Try the classic 4 Cheese Melt with cheddar, mozzarella, provolone and American cheeses. Or add in extras like a beef patty, bacon, caramelized onions, aioli sauce or jalapeno peppers.
Lunchya! is a pop-up cafe located at 2055 Kalākaua Ave. Pick up mouth-watering cheeseburgers, plantation ice tea and coffee floats, and frozen pineapple sticks. There's also signature shave ice flavors including pina colada and strawberry milk.
Musubi Cafe Iyasume is the place to try Hawaiʻi's SPAM Musubi. They just added a store at Waikiki Beach Walk (227 Lewers St). Other Waikīkī locations include Waikiki Monarch (2427 Kuhio Ave) and Waikīkī Seaside (334 Seaside Ave).
For a little bit of Texas in Hawaiʻi head to Sunset Texas Barbecue, now in Kakaʻako (15-mins drive from Waikīkī). Try smoked meats prepared in 1,000-gallon custom-built smokers. The menu includes beef brisket, beef short ribs, pork spare ribs, sausage and sides of coleslaw and potato salad. Open Thu-Sun 11am until sold out.
Plantoem is Honolulu's one and only plant cafe. It's a tropical oasis in Kaimukī (10-mins drive from Waikīkī). The cafe is adorned in rotating art by Hawaiʻi artists, it's a great spot for remote working. They serve iced coffee, unique hot and cold teas (like a yummy cactus pear tea) and sweet treats (currently no hot coffee). 
Tours & Activities
4DFX Hawaiʻi Theater opened at Hilton Hawaiian Village featuring a 32-seat multi-screen motion effects cinema playing 4D FX Films including Soaring Over Hawaiʻi. There's also a Cosmic Arcade with classic arcade games and VR experiences.
Splash with Sara hosts Aqua Zumba classes at a variety venues including the iconic "Wish You Were Here" pool at The Surfjack Hotel in Waikīkī (where classes are free for hotel guests or $10 for the public). Sign up ahead of time to secure your spot
Insight Vacations premium guided journeys have launched new 2022 Hawaiʻi itineraries. Each trip includes dining, hotel services and experiences that have been carefully selected. A Travel Director and Well-Being Director take care of all the details so that guests can relax and enjoy all that the islands have to offer. Hawaiʻi with Oʻahu, Maui & Big Island and Hawaiʻi with Oʻahu & Maui packages are available.
Hawaiʻi is spending $1 million to dismantle the dangerous Stairway to Heaven hiking trail. Don't worry, there are plenty of amazing legal hikes waiting for you on Oʻahu.
Shopping
Duke's Marketplace is back in action after being renovated. This shopping experience is hidden in Duke's Lane by Waikīkī Beachcomber By Outrigger. It's a haven of almost 90 wooden carts, makeshift shacks and kiosk vendors selling all sorts, from beach towels and clothing to jewelry and souvenir-style trinkets.
Surfers Bakery at Ala Moana Center is a new food and beverage project by Wai Surf, specializing in fresh Korean-style baked goods, shave ice, cookies and more.
Sunshine Arts has expanded into Waikīkī Beach Marriott Resort. This all-local art gallery also sells online, offering free shipping to the US on orders over $100.
South Shore Studio at International Market Place is a new locally owned vintage clothing store with clothing and sneakers from the 1960s to 2000s.
DeRubeis Fine Art at International Market Place features DeRubeis' paintings, a world of celestial abstraction that captures colored soaked light.
GemStudio at International Market Place is a new jewelry workshop where guests are guided step-by-step in creating their own ring, bracelet, or necklace.
Festivals & Events
Barefoot Beach Cafe is hosting a Picnic in the Park every Fri-Sat 5:30-8:30pm with live music. Buy your favorite dish takeaway and dine on grassland by Waikiki Beach.
KCC Farmers Market reopened on 25 Sep 2021. This is Honolulu's biggest farmers market with 50+ vendors. It's held every Sat 7:30-11am at Kapiolani Community College in Diamond Head.
The Honolulu Museum of Art's Artists of Hawaii Now exhibition celebrates world-class artwork from contemporary artists of Hawaiʻi exploring some of the most urgent issues of our time and place. On display 16 Sep 2021 through 16 Jan 2022.
Hawaiʻi Opera Theatre is postponing its fall season due to COVID-related restrictions. The theater plans to return to live performances in the new year with HOT Live in Concert (Jan 2022), Opera Ball: The Butterfly Emerges (Mar 2022), Madame Butterfly (Apr 2022) and The Tragedy of Carmen (Feb 2022).
Waikīkī's Rock-a-Hula night show is back! It combines powerful performances with rock n roll, Hawaiian and Polynesian music including fire knife dancing. Choose to enjoy the Rockin' Show only, or add on a dinner package.
The Hawaiʻi Food & Wine Festival is returning in 2021! Book a range of culinary experiences and hands-on activities featuring local and visiting chefs. Events slated to take place on Hawaiʻi Island 1-2 Oct, on Maui 7-10 Oct, and on Oʻahu 14-24 Oct.
---
JOIN THE OHANA HERE: SUBSCRIBE 🤙