With the Hawaiian Islands' ample sunshine, refreshing trade winds and tropical vistas, it's no surprise visitors to Waikīkī seek out the best outdoor dining experiences.
As regular Waikīkī diners over the last ten years, we know there's no better place to savor a meal than outside! Whether daylight or moonlight, al fresco dining in Waikīkī is a total vibe.
In Waikīkī, you can dine beside the sea, beneath a historic banyan tree, under a pink beach umbrella or within eyeshot of a dormant volcano crater, Lē'ahi (Diamond Head) – to touch on just a few unique vantage points.
This post shares our top Waikīkī outdoor dining recommendations.
1. Barefoot Beach Cafe
Barefoot Beach Cafe is the place to dine by the sea in Waikīkī. This outdoor kiosk at Queen's Surf Beach is a haven of picnic tables and umbrellas, perfect for a casual beachside bite.
Open for breakfast, lunch and dinner with live music nightly from 5:30-8:30pm. The food is a mix of American fare and Hawaiʻi local plates, and they have an extensive vegan food offering.
INSIDE TIP: The menu features Sakara's Vegan Burger with a cashew cream sauce and it was voted Best Veggie Burger in Hawaii 2021 by Peta.org.
2. The Beach Bar at Moana Surfrider
The Beach Bar is front and center to Waikīkī's beach vibes. This fresh-air venue sits under a huge banyan tree next to Waikīkī Beach fronting the ocean at Waikīkī's first hotel, the Moana Surfrider.
It beckons a good time between 11am-10:30pm daily, and features live entertainment. Enjoy a tasty menu, along with cocktails and draft beer. We love the local staff here!
INSIDE TIP: The banyan tree is worth viewing in the evening when lights shine upon it, giving it a colorful glow-up.
3. Mai Tai Bar at The Royal Hawaiian
Mai Tai Bar at The Royal Hawaiian is Waikīkī's most iconic bar, open for lunch and dinner only. Stop by to sip on the original Trader Vic Mai Tai, and stay for a delicious meal.
This airy beachside property is worth exploring, take photos in the jungle-like grounds, visit the on-site bakery and buy pink stuff at TRH Inspired gift shop.
INSIDE TIP: The actress Shirley Temple created the non-alcoholic drink of her namesake here – what better place to drink one!
4. Deck Waikiki at Queen Kapiolani Hotel
Deck Waikiki, a restaurant and bar on the 3rd-floor pool deck of Queen Kapiolani Hotel, offers a dramatic Diamond Head backdrop. Dine-in for a memorable breakfast, brunch or dinner, with uninterrupted views of this natural landmark.
Meals are locally sourced using sustainable ingredients. This is a top spot for a handcrafted cocktail at sundown or a nightcap under the stars.
5. Hau Tree at Kaimana Beach Hotel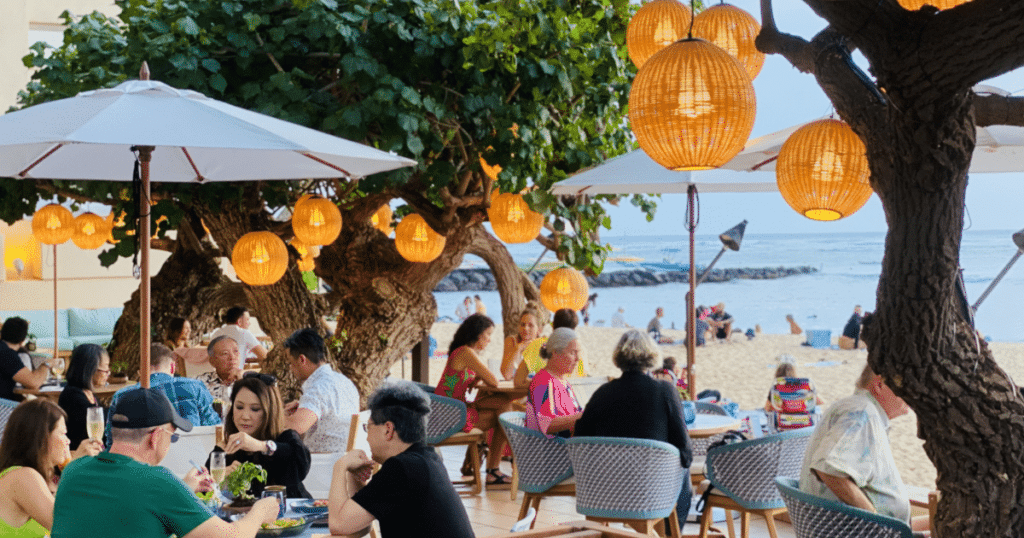 Hau Tree restaurant and bar is tucked away in the courtyard of Kaimana Beach Hotel under the shade of native hau trees, a relative of the hibiscus plant.
It's a beautiful beachside setting on Waikīkī's Gold Coast, the east-end of town towards Diamond Head. Bordering Kaimana Beach, this is a hotspot loved by locals especially for brunch and dinner.
6. RumFire at Sheraton Waikiki
RumFire Waikiki, situated on the edge of the ocean, is a popular restaurant and bar for sunset drinks. Order food for the table like an artisanal cheese board or classic comfort meals.
This is a place to cheers with friends over refreshing cocktails and other boozy delights with a primo view of Diamond Head. Open for lunch and dinner, with live music nightly.
7. Hideout at The Laylow
Hideout at The Laylow (appropriately named) is a restaurant and bar hidden at the top of an escalator along Kuhio Avenue in Waikīkī.
It's a chic open-air patio with lounge seating open for breakfast and coffee (6am to 11am) and dinner (5pm to 9:30pm). It's a cool place to end your day under tiki torch lighting, with live entertainment nightly, artisanal cocktails and craft beers.
6. Momosan Waikiki at Alohilani Resort
Momosan Waikiki is a ramen and sake bar in a tropical garden setting on the outskirts of Alohilani Resort. Noodles are the main event, try the signature Tonkotsu Ramen.
Pair your meal with yummy Japanese bites like Tetsunabe Pork Gyoza or Bao Buns. Wash it down with a Draft Kirin Ichiban Frozen Beer. Open for breakfast, lunch and dinner.
7. Quiora at Ritz Carlton, Waikiki Beach
Quiora is an open-air Italian dining room uniquely-positioned on the 8th-floor lobby level of The Ritz-Carlton Residences, Waikiki Beach. This alfresco restaurant and bar overlooks Waikiki's vast cityscape.
Savor an Aperol spritz in this peaceful setting far from the hustle and bustle. The lunch and dinner menus center on fresh artisan pasta made by hand and an impressive wine list.
8. Tommy Bahama Waikiki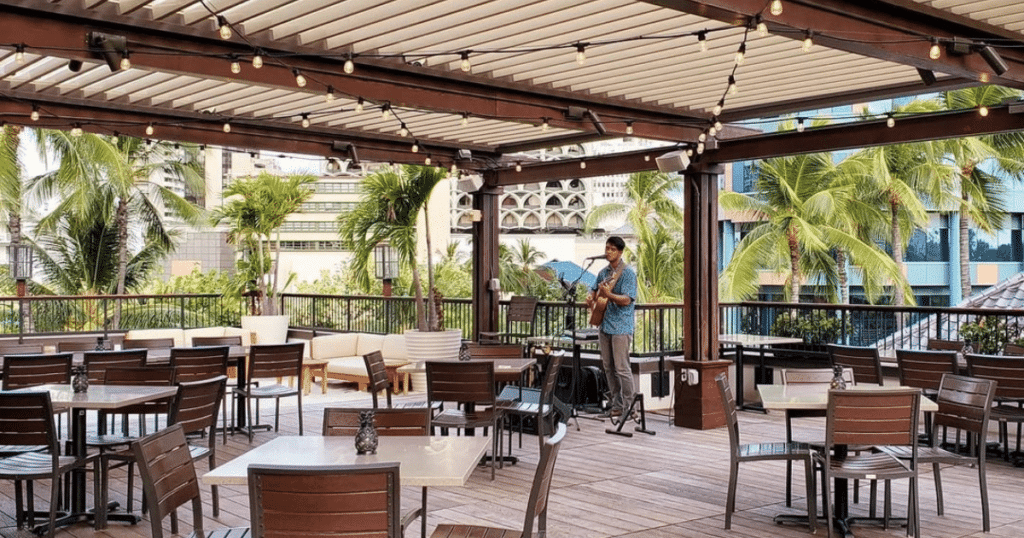 Tommy Bahama is a retail shop, restaurant and rooftop bar all-in-one with warm island vibes. The best seats in the house are on the rooftop, a bar area with a sand floor and fire pit.
Sample dishes with Hawaiʻi flair like Kona Coffee Crusted Ribeye and Mac Nut Crusted Fresh Catch. Always end with a dessert, Key Lime Pie or Pineapple Creme Brulee, to name a few.
In summary, there is an incredible selection of open-air restaurants in Waikīkī. If you try our recommendations for the best outdoor dining in Waikīkī, we'd love to hear about it! Please leave a reply in the comments section below.