Explore Oahu > Oahu Beaches
Waikiki Beach
Hawaii's most well-known beach, Waikiki Beach, spans 2mi (3.2km) long and is made up of seven beaches.
Duke Kahanamoku Beach*
Fort DeRussy Beach Park*
Gray's Beach
Royal Hawaiian Beach
Kuhio Beach Park*
Queen's Surf Beach*
Sans Souci Beach
*Our favorite Waikiki beaches!
Duke Kahanamoku Beach
Duke Kahanamoku Beach and the salt-water lagoon nearby is named after Duke, the Hawaiian swim and surf legend. It's the widest section of sand on Waikiki Beach, known for a calm ocean thanks to a protective offshore coral reef. Aqua cycles, air mats and tubes, boogie boards, kayaks, and surfboards are available to rent from the Waikiki Beach Activities hut, making this a fun area for water play.
Fort DeRussy Beach Park
Fort DeRussy Beach Park is a beautiful, well-maintained oceanfront parkland on the west end of Waikiki, next to Duke Kahanamoku Beach. It's under the jurisdiction of the U.S. Army but is open to the public. It's a sanctuary for beachgoers who prefer to sit on the grass or under the shade of trees when they're not in the water. This peaceful greenspace also offers BBQ grills, picnic benches, exercise paths, volleyball courts, and an outdoor shower and restroom facilities within easy reach.
Kuhio Beach Park
Kuhio Beach Park features offshore rock walls and a concrete pier that form two semi-protected ocean pools along Waikiki Beach. The water in front of the pier is a surfboard-free zone making it a hotspot for bodyboarders, and snorkelers tend to gravitate along the inside of the sea walls. Outrigger canoe rides and surfing lessons take place on the local surf breaks, Queen's and Canoes. The park also hosts the Kuhio Beach Hula Show on its hula mound, don't miss this free Hawaiian music and dance performance.
Queen's Surf Beach
Queen's Surf Beach runs from the concrete pier to Waikiki Aquarium, and it's the only Marine Life Conservation District in Waikiki. The offshore reef has been dedicated to conserving and replenishing marine life, making it a lovely place to go snorkeling. It's great for recreation, a good mix of sandy beaches and grassy parklands with a lifeguard station, picnic benches, outdoor showers, and a restroom. Grab a bite to eat at the casual Barefoot Beach Cafe and keep your eye out for sunbaking Hawaiian monk seals.
Ala Moana Beach Park
Ala Moana Beach Park at the gateway of Waikiki (opposite Ala Moana Center) is a popular choice among local residents. It's an expansive parkland of exercise paths, shady trees, and picnic benches, fronting a long patch of white sand. The park encompasses Magic Island, a small headland highlighted by a picture-perfect blue lagoon with fantastic views over Waikiki Beach and Diamond Head. This region is slated to undergo a major makeover including a new bike path, stay tuned.
Hanauma Bay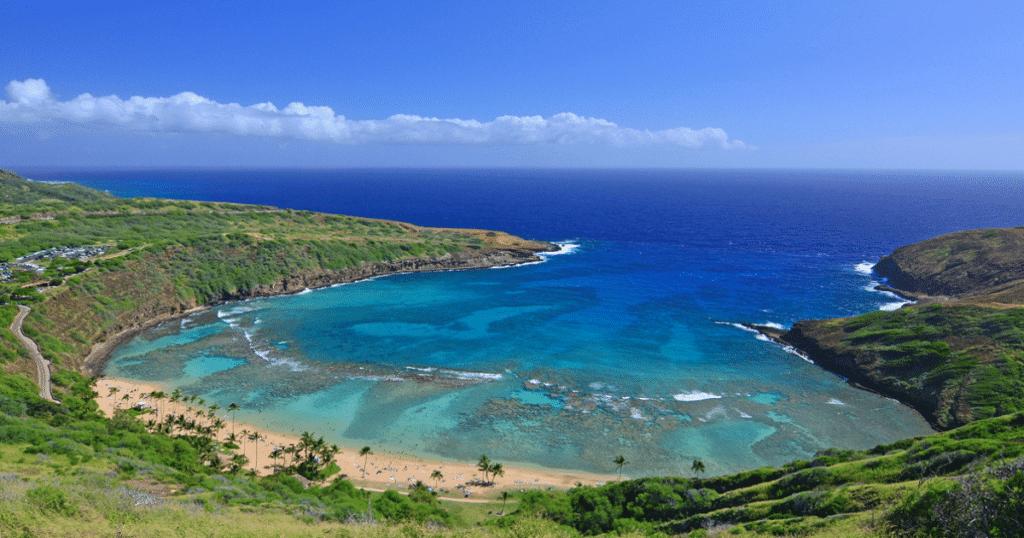 Hanauma Bay is Oahu's premier snorkeling destination, a designated Marine Life Conservation District filled with schools of tropical fish and Hawaiian green sea turtles. Lucky snorkelers might even see the odd octopus, manta ray, or moray eel. This iconic beach was made famous after Elvis Presley filmed Blue Hawaii on its golden sands. To get there, take TheBus (Route 22) from Waikiki to Hanauma Bay or book a Snorkel Tour (except on Monday or Tuesday when it's closed).
Waimanalo Beach
Waimanalo Beach on Oahu's east coast spans 5mi (8km), it's the longest beach on the island and remains relatively unknown to the average tourist. It's hidden behind an ironwood forest, nicknamed Sherwood Forest by the locals, and can be accessed from two parking lots, one at either end of the beach. With pure white sand and turquoise water, this place really is paradise on earth. Manana (Rabbit) Island sits out to sea and the Koolau mountain range makes for a memorable backdrop.
Lanikai Beach
Lanikai Beach is on the fringe of the Lanikai neighborhood, a small community in the town of Kailua. It's an idyllic setting on Oahu's east coast continually ranked as one of the top beaches in the nation. It's a surf less beach, but what it lacks in waves it makes up for in views. The famous Mokulua Islands sit offshore and attract Kayak Tours. This natural setting is incredible but it comes at a price, there are no public facilities, restrooms, or vendors. If that's a deal-breaker, head to the equally beautiful Kailua Beach.
Waimea Bay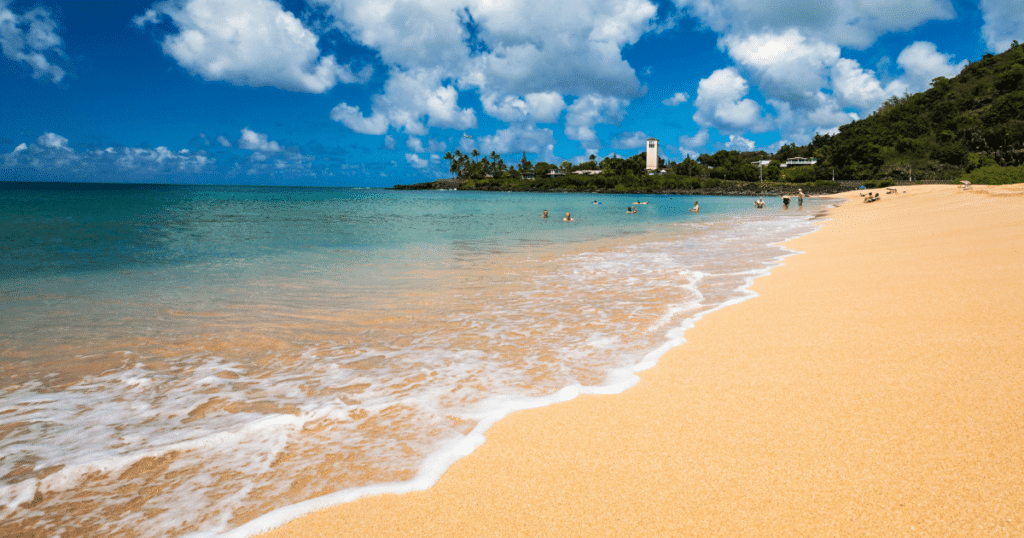 Waimea Bay is one of three esteemed surf breaks on Oahu's North Shore, the others being Sunset Beach and Ehukai Beach (Banzai Pipeline). In winter (Nov-Apr), this beach is a prime spot for viewing professional surfers riding waves as high as 40ft (12m). In summer (May-Oct), it's the opposite with calm waters providing the perfect environment for swimming and snorkeling. Tucked away in the foliage opposite the bay is Waimea Valley, a gorgeous botanical garden with a swimmable waterfall. It's a hidden gem.
READ NEXT // Oahu Easy Hikes
---
Image Credit: Shutterstock/Jay Bo