There is no better place to savor a meal in Hawaii than outside, taking in the fresh tropical air and island landscapes. Waikiki has an abundance of open-air restaurants and bars, offering awesome outdoor dining experiences. The only problem you're going to have is fitting them all in!
1. Aloha Beer Waikiki
2. Arancio di Mare
3. Barefoot Beach Cafe
4. Deck
5. Duke's Waikiki
6. Eating House 1849
7. Hau Tree
8. Hideout at The Laylow
9. Mai Tai Bar
10. Maui Brewing Co. Waikiki
11. Momosan Waikiki
12. Quiora
13. RumFire
14. SKY Waikiki Raw & Bar
15. Taormina Sicilian Cuisine
16. The Beach Bar
17. Tiki's Grill & Bar
18. Tommy Bahama Restaurant
1. Aloha Beer Waikiki
Aloha Beer Company is Waikiki's one and only beer garden, situated on Kalakaua Avenue right in front of Longs Drugs Waikiki store. Enjoy a cold local beer and plenty of satisfying snacks including pizza, spicy wings, waffle-cut fries, giant soft pretzels, sandwiches and salads. They host Happy Hour from Sunday to Thursday, 2:30-5:30pm.
2. Arancino di Mare
Waikiki Beach Marriott Resort & Spa, 2552 Kalakaua Ave, Honolulu
Arancino's is recognized as Hawaii's Best Italian Restaurant. They have three eateries on Oahu including Arancio di Mare, an open terrace restaurant outside the Waikiki Beach Marriott Resort. Their Napoli-style meals are made with ingredients imported from Italy combined with fresh local products. They also serve seasonal truffles, gluten-free spaghetti and bear-shaped kids pizza.
3. Barefoot Beach Cafe
Queen's Surf Beach, 2699 Kalakaua Ave, Honolulu
Dine by the sea at Barefoot Beach Cafe. This outdoor kiosk at Queen's Surf Beach is a haven away from the tourist strip filled with picnic tables and umbrellas, perfect for a casual beachside bite. Open for breakfast, lunch and dinner with live music nightly from 5:30pm. The food is a mix of American fare and Hawaii local plates. On Friday evenings, they host The Beach BBQ Buffet.
4. Deck
Queen Kapiolani Hotel, 150 Kapahulu Ave, Honolulu
Diamond Head forms the dramatic backdrop at Deck Waikiki, a restaurant and bar on the 3rd-floor pool deck of Queen Kapiolani Hotel. Dine-in for a memorable breakfast, brunch or dinner, with uninterrupted views of this natural landmark. Meals are locally sourced using sustainable ingredients. This is a top spot for a handcrafted cocktail at sundown or a nightcap under the stars.
5. Duke's Waikiki
Outrigger Waikiki Beach Resort, 2335 Kalakaua Ave, Honolulu
A Hawaii must-visit, Duke's Waikiki is an institution dedicated to Hawaiian surf legend and Olympian Duke Kahanamoku. This famous barefoot bar, just steps from the sand, is a solid choice for breakfast (try the buffet), lunch or dinner. Try Kimo's Original Hula Pie, a chocolate cookie crust piled high with mac nut ice cream, hot fudge, toasted mac nuts, and whipped cream.
6. Eating House 1849
International Market Place, 2330 Kalakaua Ave #322, Honolulu
Perched atop the International Market Place is award-winning Chef Roy Tamaguchi's Eating House 1849 restaurant and bar. This dinner establishment pays homage to Hawaii's vibrant culinary heritage using ingredients sourced from local farmers, ranchers, foragers and fishermen. Happy Hour runs 4-5pm daily with small plates, craft cocktails, local draft beer and wine from $7.
7. Hau Tree
Kaimana Beach Hotel, 2863 Kalakaua Ave, Honolulu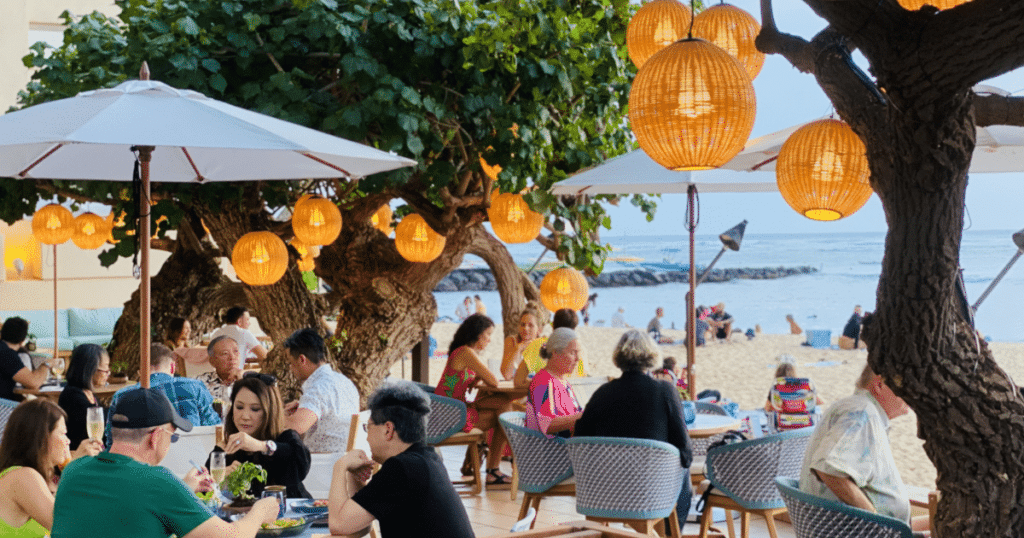 Find Hau Tree restaurant and bar in the courtyard of Kaimana Beach Hotel under the shade of native hau trees, a relative of the hibiscus plant. It's a beautiful beachside setting on Waikiki's Gold Coast, the east-end of town towards Diamond Head. Bordering Kaimana Beach, this is a hotspot loved by locals especially for brunch and dinner.
8. Hideout at The Laylow
The Laylow Hotel, 2299 Kuhio Ave, Honolulu
Appropriately named, Hideout at The Laylow is a restaurant and bar 'hidden' at the top of an escalator along Kuhio Avenue in Waikiki. It's a chic open-air patio with lounge seating open for breakfast and coffee (6am to 11am) and dinner (5pm to 9:30pm). It's a cool place to end your day under tiki torch lighting, with live entertainment nightly, artisanal cocktails and craft beers.
9. Mai Tai Bar
Royal Hawaiian Resort, 2252 Kalakaua Ave, Honolulu
The Royal Hawaiian Mai Tai Bar is Waikiki's most iconic bar, open for lunch and dinner only. Stop by to sip on the original Trader Vic Mai Tai, and stay for a delicious meal (seafood platters available after 5pm). This airy beachside property is worth exploring, take photos in the jungle-like grounds, visit the on-site bakery and buy pink stuff at TRH Inspired gift shop.
10. Maui Brewing Co. Waikiki
Waikiki Beachcomber by Outrigger, 2300 Kalakaua Ave, Honolulu
Hawaii's largest bar is inside Maui Brewing Co. (MBC), a huge indoor-outdoor restaurant overlooking Waikiki's main thoroughfare. Taste the full suite of MBC beers and eat island-inspired pub grub. This venue blends industrial decor with a sports bar atmosphere and live music. Drink from 36 beers on tap, top brews include Bikini Blonde Lager, Pineapple Mana Wheat and Coconut Hiwa Porter.
11. Momosan Waikiki
Alohilani Resort, 2490 Kalakaua Ave, Honolulu
A ramen and sake bar in a tropical garden setting on the outskirts of Alohilani Resort, that's Momosan Waikiki in a nutshell. Noodles are the main event, try the signature Tonkotsu Ramen. Pair your meal with yummy Japanese bites like Tetsunabe Pork Gyoza or Bao Buns. Wash it down with a Draft Kirin Ichiban Frozen Beer. Open for breakfast, lunch and dinner.
12. Quiora
The Ritz Carlton Residences, 383 Kalaimoku St, Honolulu
Quiora is an open-air Italian dining room uniquely-positioned on the 8th-floor lobby level of The Ritz-Carlton Residences, Waikiki Beach. This alfresco restaurant and bar overlooks Waikiki's vast cityscape. Savor an Aperol spritz in this peaceful setting far from the hustle and bustle. The lunch and dinner menus center on fresh artisan pasta made by hand and an impressive wine list.
13. RumFire
Sheraton Waikiki Hotel, 2255 Kalakaua Ave, Honolulu
Situated on the edge of the ocean, RumFire Waikiki is a popular restaurant and bar, especially for sunset drinks. Order food for the table like an artisanal cheese board or classic comfort meals. This is a place to cheers with friends over refreshing cocktails and other boozy delights with a primo view of Diamond Head. Open for lunch and dinner, with live music nightly.
14. SKY Waikiki Raw & Bar
Waikiki Business Plaza, 2270 Kalakaua Ave, Honolulu
Perched on the 19th-floor rooftop deck, SKY Waikiki Raw & Bar has the best views of Waikiki over Kalakaua Avenue, the Pacific Ocean and Diamond Head. Open from 4pm daily, this venue is perfect for sunset beverages. Dine on seafood including oysters, Hawaiian poke and sashimi, and sip on Icy Mai Tais (slushy), Mimosas, or Bellinis. Reservations are required, request to sit outside.
15. Taormina Sicilian Cuisine
Taormina Sicilian Cuisine offers fancy Italian food inspired by Taormina, a seaside village in Southern Sicily. This establishment has a cute outside dining space on Lewers Street. Dine-in for lunch or dinner. The pasta dishes are divine and clearly the main event, but there's also plenty of fresh seafood and meat dishes with vegetables for health-conscious diners.
16. The Beach Bar
Moana Surfrider Hotel, 2365 Kalakaua Ave, Honolulu
Soak up Waikiki's beach vibes front and center at The Beach Bar. This fresh-air venue sits under a huge banyan tree fronting the ocean at Waikiki's first hotel, the Moana Surfrider. It beckons a good time between 11am-10:30pm daily, and features live entertainment. Enjoy a tasty menu, along with cocktails and draft beer. We love the local staff here!
17. Tiki's Grill & Bar
Aston Waikiki Beach Hotel, 2570 Kalakaua Ave, Honolulu
Ever noticed the red glow of a volcano on the side of a building on Kalakaua Avenue? It's coming from Tiki's Grill & Bar at Aston Waikiki Beach Hotel, a Hawaii-themed restaurant and bar with terrace seating. There's nightly live local music, top-selling Mai Tai's and Tiki's famous coconut shrimp. Ask your server to add a take-home tiki glass with your drink for an extra $8.
18. Tommy Bahama Waikiki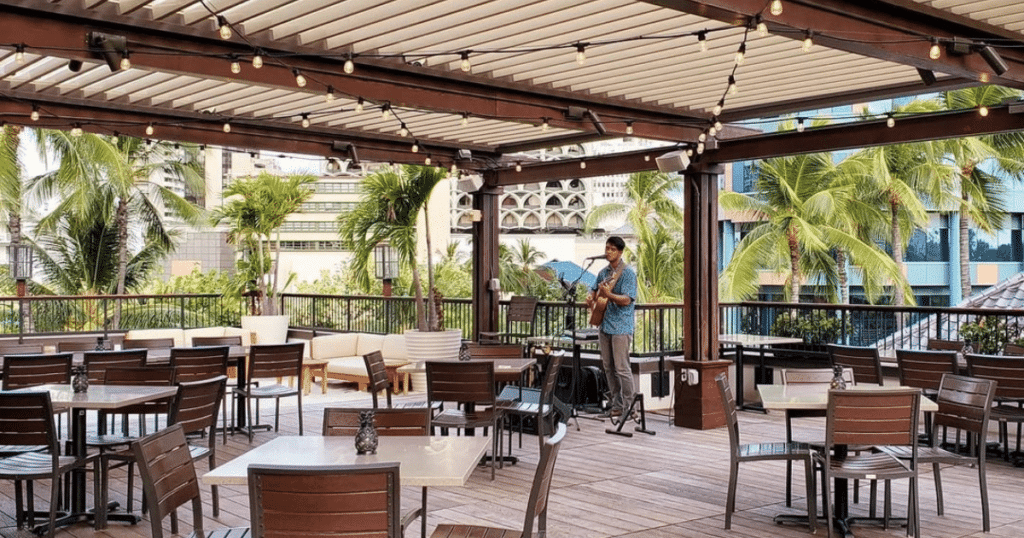 Tommy Bahama is a retail shop, restaurant, and rooftop bar all-in-one with warm island vibes. The best seats in the house are on the rooftop, a bar area with a sand floor and firepit. Sample dishes with Hawaii flair like Kona Coffee Crusted Ribeye and Mac Nut Crusted Fresh Catch. Always end with a dessert, Key Lime Pie or Pineapple Creme Brulee, to name a few.
SUBSCRIBE // Join Waikiki Beach Stays monthly mailer to keep up to date on all things Waikiki
---
Image Credit: Ashlee Galea/Waikiki Beach Stays